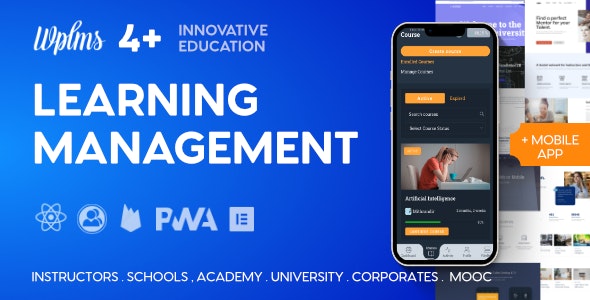 This is one of most frequently asked question from us. So what separates WPLMS from other Education themes or Learning management plugins for WordPress, like Academy, CleverCourse (GoodLMS), EducationWP (LearnPress), LearnDash, Sensei, LifterLMS etc and why it is the best education theme for WordPress.
Over 14000 sales and tested on sites with over 700k members, we understand how education businesses function and how technology works. When there is a bottleneck it needs to resolved, it needs to be resolved quickly without the need to go to theme or plugin support. Following points is an attempt from us to convince you on why WPLMS is the best platform for education sites and eLearning communities.
Note that this is not the entire list of features in WPLMS but it is the list of features which differentiate us from other WordPress education themes and plugins.
#1 Built for Instructors
Instructors are simple users who are expert in their fields. They do not need to see the WP Admin screen like any Web developer/designer guy. Everything should be simple and easy for them.
Front End Course creation and editing
The most powerful tool for creating courses. Save your Instructors from seeing the complex WordPress backend.
MultiPurpose Course Directory
Easily search, filter and sort courses in the entire course directory.
Course Activity Tracking
Track how many students started the quiz in your course.
Manually add students to Course
If you're selling a course, not everything is going to go well during a purchase process. Sometimes, payments are made but does to clear in realtime. You can add students to a course in realtime manually without contacting theme or plugin support.
Check Student Progress
Check student progress in realtime. So if you're an Instructor and want to check a student's progress. Instructors can also get notifications when students progress in new units.
User WalkThroughs
Allow your users to easily navigate through site by creating walkthroughs.
Mark Student's units manually
Not only progress you can even mark the units complete/incomplete for Students. If you're running offline courses, you can also use this for attendance system.
Check Student last activity : What if you want to track what the student did in your course ? What a student finished a unit.
Manually evaluate quizzes : So, you may have essay type questions which you want to evaluate ?
Re-Evaluate already evaluated quizzes : A quiz was set to auto evaluation mode with an essay type question ?
Quiz reset : So, a student accidentally submitted the quiz ? and now wants to reattempt the quiz. The instructor can reset the quiz for the student.
Quiz retakes : Or you want to give 3 attempts to user to finish or pass a quiz.
Dynamic quizzes : So you want to create a quiz where first 3 questions are from English (Subject A) from a pool of questions, next 3 questions from Maths (Subject B) from a pool of questions/question bank randomly, without the hassle of manually adding questions.
Mass Messaging to Students : You want to send a private message to students of your course.
User Announcements : You want to make an announcement to the Students of your course.
Course News : You want to share a news or a report with the students of your course.
Course Drive
Coupled with BuddyDrive you can share attachments with the users of your course.
User Touch points
Trigger emails , notifications or messages on various action points. Like auto trigger email to student when Instructor makes an announcement in the course.
Apply for course
Manually administrator students joining the course.
CourseCodes
Send invitation codes to students to join a course. Also track which students joined the course using the course code.
Instructor Dashboards
One stop area for instructors to checkout various statistics in courses.
Upload Assignments
#2 Student comfortability
If you ever see any popular site like "Udemy", "CourseEra" or "Lynda" and check student reviews for various courses, you'll understand that Students are impatient bunch of users, they need quick answers, anything wrong in the site, they're quick to point out and it impacts your site's brand value.
User Dashboards
When you're pursuing courses you want everything at 1 place. 1 place to see all the courses, all the notifications, all the statistics etc.
Student notes and Discussions
You want to allow students to take notes and discuss the units right in the unit itself and continue the discussion with automatic notifications and emails when someone replies to the user's comments.
My Activity
Check your last activities right from your profile.
Email Notifications for Announcements/News
Get notified by emails, also optionally disable these annoying emails from your account.
Quiz save
So, you have very long quizzes, 3 hours quizzes and you need to go to take a break ? or attempt the remaining quiz from their homes/another location.
Drive
Create and share files and folders with users from groups, friends.
Certificate Codes
Verifiable Certificate codes, Certificates come with certificate codes which are verifiable on the WPLMS site.
#4 Ease of Administration
Instructor Privacy :
Only allow instructors to view and edit their courses, units, quizzes, questions and media files.
Custom Registration forms :
Create multiple registration forms for various user types in WPLMS site.
Schedule emails :
Schedule emails for inactivity ,course reviews, reminder emails for Courses with start dates, courses with drip feed.
Module wise statistics, Download statistics :
Every module has its own statistics area.
Bulk import export
Import Courses, Units, Quizzes, questions and assignments. Import users and assign them to courses. Import user reviews, user marked answers, user quiz results etc.
Site Wide Statistics :
A lot of statistics are recorded in WPLMS, some of it is as below :

#5 WPLMS the Educational social netWork.
WPLMS as built on a social network called "BuddyPress", it is deep integrated with BuddyPress and it fully utilises the BuddyPress's registration, profile fields, messaging, notifications, emails
Custom Profile fields :
Notifications :
Emails :
Private Messaging :
Groups :
#6 WPLMS Extensions
You can extend WPLMS even further by using these addon plugins :
WPLMS WishList : Allow users to add courses to Wishlists and Collections. Collections can be shared on social networking sites.
WPLMS WooCommerce : Create multiple options to sell your course, sell with a different price for certificates, badges or Batches.
WPLMS Batches : Create Classes for your courses, add moderators, administrators in batch to view statistics of students in the batch/class. Add multiple courses, book seats for students.
WPLMS MailChimp : Sync WPLMS with mailchimp lists, create individual list with courses with different status. Send out newsletters etc to various students in the lists.
VideoVibe: Allow instructors to upload videos directly from WP Media popup into your Vimeo Account (Wisita coming soon.). Also enable Instructor privacy and seek lock for Vimeo videos.
WPLMS GiftCourses : Allow users to Gift courses to other users. One click account creation and addition to course right from the email.
WPLMS S3 : Allow Instructors to upload attachment/videos to your S3 account. Inbuilt PDF viewer, attachment protection with expiring content.
—
WPLMS is a WordPress Education theme and a Learning Management system, built for one purpose, to make online education easy and fun to use.
Buy WPLMS $75